I never touted it as such. Again, I only corrected you on your claim that there isn't enough gold to account for all the dollars. That's not my support for gold, as I've explained why it already failed as money. It was just my correcting a bad assumption on your part that ignores that the value of gold per ounce can increase to accommodate the entire dollar economy.
You did, in the beginning, and one has ask why you'd go out of your way to dispute my criticism of the gold standard if you thought the gold standard was unworkable to begin with.
More importantly, your proposal for returning to gold standard has a few flaws, starting with you would need to artificially increase the price of gold in the first place to make it even work since at gold's price per troy ounce currently wouldn't cover the economic activity of the US, much more the world.
It would not be artificial. It would rise in the market naturally as more of it encompasses economic activity. Same as the value of Bitcoin has been naturally rising to encompass more and more economic activity to the detriment of the dollar.
By definition, if the price of per troy gold ounce is currently around $1,500, the total amount of gold mined in existence is 142,000 metric tons, and that equals currently about 7.2 trillion dollars in gold, which is well short of being able to cover all the circulating money and deposits in US since our GDP is 20.9 trillion (which provides a nice starting point for how you'd need to cover), then you either need to massively devalue dollar (which will cause the very crisis you claim to want to prevent) or fix the price of gold higher (which what you're effectively proposing, even if you don't realize it).
To spell out the consequences of this, this would be devastating for the world economy because the higher price of gold would disrupt and possibly destroy the technology industry since gold is a key component in computer circuitry. Component prices would be impossible to meet. To make this personal to you, this would definitely end the Bitcoin industry since it relies entirely on computing technology.
I hope we've settled that I haven't proposed artificially rising the price of gold, that I merely corrected you that the price of gold will rise to encompass the value of the economy on its own, but that I don't support we use gold for this, since, as I explained, gold already failed as money due to its divisibility and portability problem, which necessitated the highly problematic backing. And hopefully we can leave this gold thing behind. It's irrelevant.
I mean, if the government decides to go back to the gold standard, it will be the cause of the price of gold rising immediately. That isn't gold "rising to encompass the value of the economy on its own".
Furthermore, I've repeatedly, as have others here, pointed out issues of the lack of portability and divisbility to you, yet you've ignored those flaws in your nonsensical defense of the gold standard only realize this now.
I thought I addressed this error of yours by explaining paper backing. In the same way that atoms are unusable, even dust specs of gold were unusable. But paper backing solved that issue because backing allows you to write any quantity of something in paper. Just as you can have a paper that is worth roughly $1, where it is backed by 1/2000th of a gram of gold, so too you can have a paper that is backed by a fraction of an atom. Either way the amount being backed is impractical to use, but it still grants you an amount of volume of gold and thus some value.
I didn't make an error and think you don't realize that by having monetary notes based on "subatomic" amounts of gold that are irretrievable and irredeemable, you've inadvertently reinvented ... a fiat currency.
Which you loathe, allegedly.
Unlikely. Every single commodity we use ended up expanding in supply because we ended up with more ways of extracting it. Gold is no different (space, sea, etc). Incidentally, that's another reason gold isn't as good as Bitcoin. Bitcoin is even more limited and will have to go up in value as the economy grows.
Your knowledge of geology is on par with your understanding of economics.
Gold is a finite resource and production has actually plateaued out in recent years.
"Mine production has flat-lined, and is likely on a downward trajectory, but not dramatically so," adds Ross Norman of MetalsDaily.com.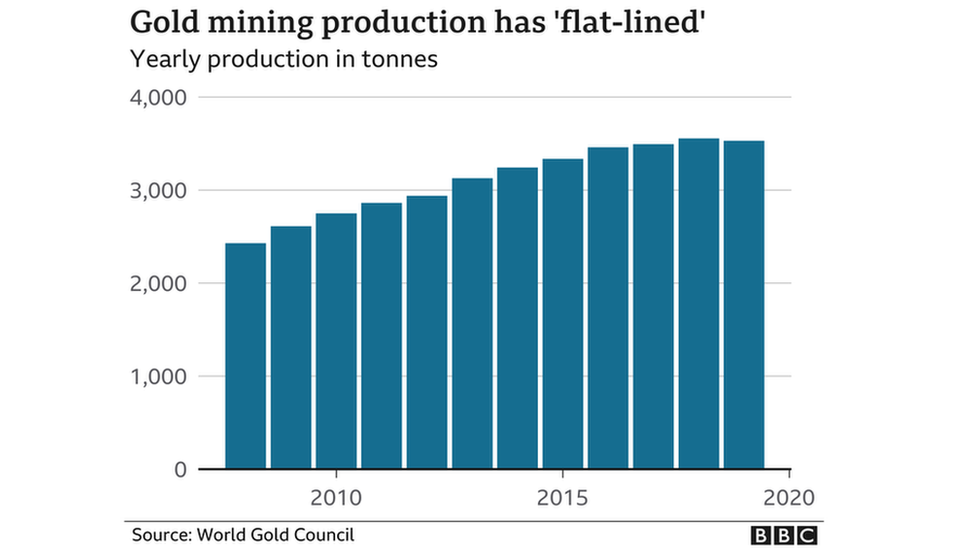 The volume of gold reserves can be calculated more accurately than resources, although this is still not an easy task.
The below-ground stock of gold reserves is currently estimated to be around 50,000 tonnes, according to the US Geological Survey.
To put that in perspective, around 190,000 tonnes of gold has been mined in total, although estimates do vary.
Based on these rough figures, there is about 20% still to be mined. But this is a moving target.
So it is not a good idea to use our slowly dwindling supply to back our monetary systems.
Inflation doesn't do anything other than make labor poorer over time. If the value of what you're earning goes up 3% a year and it's cut by 3%, you're not worse off. More likely there won't be cuts, the value of your income will just go up with deflation, same as you get a 3% raise with inflationary dollars. And that income should go up, since with experience you should be becoming more productive and valuable.
Generally, the Fed targets an annual rate of inflation for the US since a slowly increasing price level keeps businesses profitable and prevents consumers from waiting for lower prices before making purchases. Some inflation in an economy is not a terrible thing
.
That never worked, as every recession still ended up with huge unemployment. Worse, this forgets, or just ignores, the issue that during a recession wasteful activity needs to be stopped and resources reallocated. Instead what this policy does is basically create artificial economic activity, done for wasteful reasons, just to keep people employed. Environmentalists should be extremely against this.
Keynesian doesn't necessarily prevent recessions, but it does allow the Fed to help shorten the length of recessions and ensure they don't become protracted depressions. Note than when we were on the gold standard prior to World War II, major depressions were the norm and devastating. After Keynesian economics were embraced and adopted, we've had relatively mild recessions that we've recovered from fairly quickly.
With Keynesian policy, we truncate the amount of time people are unemployed and ease their burden while they are, which is preferably to your approach of just letting depressions play out and allowing people to languish in poverty for years on end. Economic crises require some government intervention, partially because it is untenable to let people suffer like that.
There's no reason for falling income. Incomes are going up with deflation. No reason for an economic contraction either. If a worker is less productive than the pay he's getting, just cut his pay.
I mean, most workers aren't going to like having their pay cut due to deflation caused by the returning to the gold standard and I going to point out that workers having their paychecks cut is forming falling income since you seemed to missed that. I also mentioned before, which you conveniently left out:
When price levels fall because of this policy, paychecks will be cut and workers will be in a bind. Falling income also means that other workers will simply have to be fired, reducing total output and enhancing the economic contraction. (This is a good time to remind you that by maintaining a slow and steady rate of inflation, a central bank can keep unemployment down and ensure nominal wage growth even during a recession. Real wages might take a slight hit, but there is generally less labor unrest.)