Cute koala-clown
❤
AUCTION | Ends at May 15 - 16:00 (EST - New York)
_______
SB: $70
MB: $5
AB: $100
_______
70$
- character + colored chibi (A1, B1)
80$
- character + colored chibi (A1, B1) + colored chibi (A2 or B2)
100$ -
character + colored chibi (A1, B1) + colored chibi (A2, B2) + gift (sketch bust)
_______


RULES:
- You can make small changes, like spots, different eye color etc.
- You can choose any gender, name, age etc.
- You can resell the adopt after you buy or draw at least one art of this adopt, please let me know if you do so.
- Please, NO fake bids
- Don't delete my sign (bottom left)
- You are NOT allowed to claim this design as your own.
- Credit me if you're going to publish this reference on your page.
- PayPal only.
- I will send you invoice.
- You have 38 hours to send the payment, if you don't, I will cancel your purchase and resell the adopt.


_______
Please, bid here: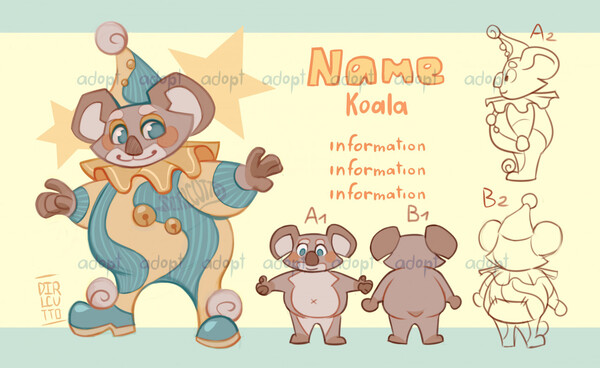 Koala clown auction!. . Twitter auction here: https://twitter.com/dirlcutto/status/1392538257687203841. . Auction ends at May 15, 16:00 ...
www.furaffinity.net
^ Koala clown AUCTION