No, no, i'm not changing my species again. But Dread just doesn't feel...dreaddy enough the way she is. So i'm giving in to the call of the barghest! In other words I want a new husky fursona that is completely black.
Already picked out the shades:
Bad attempt at how I want the paw pads but you get the point right?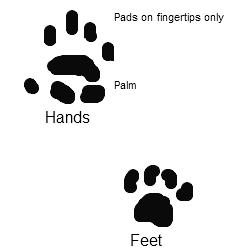 Her nose, gums, tongue, inner mouth, pawpads, claws, and skin will all be the darkest black. And I want her eyes completely white as in like
this
, NO pupils or anything. No 'hair' either. And a straight tail like huskies actually have.
Build: Same as always, about 150 lbs or so with a few extra pounds around her stomach, hips, and thighs, 38D cup breasts and plantigrade legs. Oh and five fingers, four toes.
I'm looking for at least a 1-2 view (evil expressions) with color dots, pawpad closeups of her hand and feet paws, and a shot of her mouth showing teeth/gums/tongue/inner mouth. Since she has no overly complicated markings or anything i'm not looking to pay like $100+ so please post prices, examples (especially of canines), and turnaround time (how long it generally takes you to complete something). Anything else you guys need?
Last edited: