Decided to finally bring all my eldritch cosmic ideas to (visual) life for real now.
Also : my three sonas Cosmos, Sol and Jin are no longer possessed or controlled by anything anymore, they are what they are (their powers and talents remain the same), and this entity is its own.
Its name means "universe" in r'lyehian :
https://lingojam.com/RLyehian
"You can kill my messengers, but you cannot kill the crawling chaos that is approaching. You still foolishly think this is a prison, but it is now my domain. And I. Will. SHOW YOU."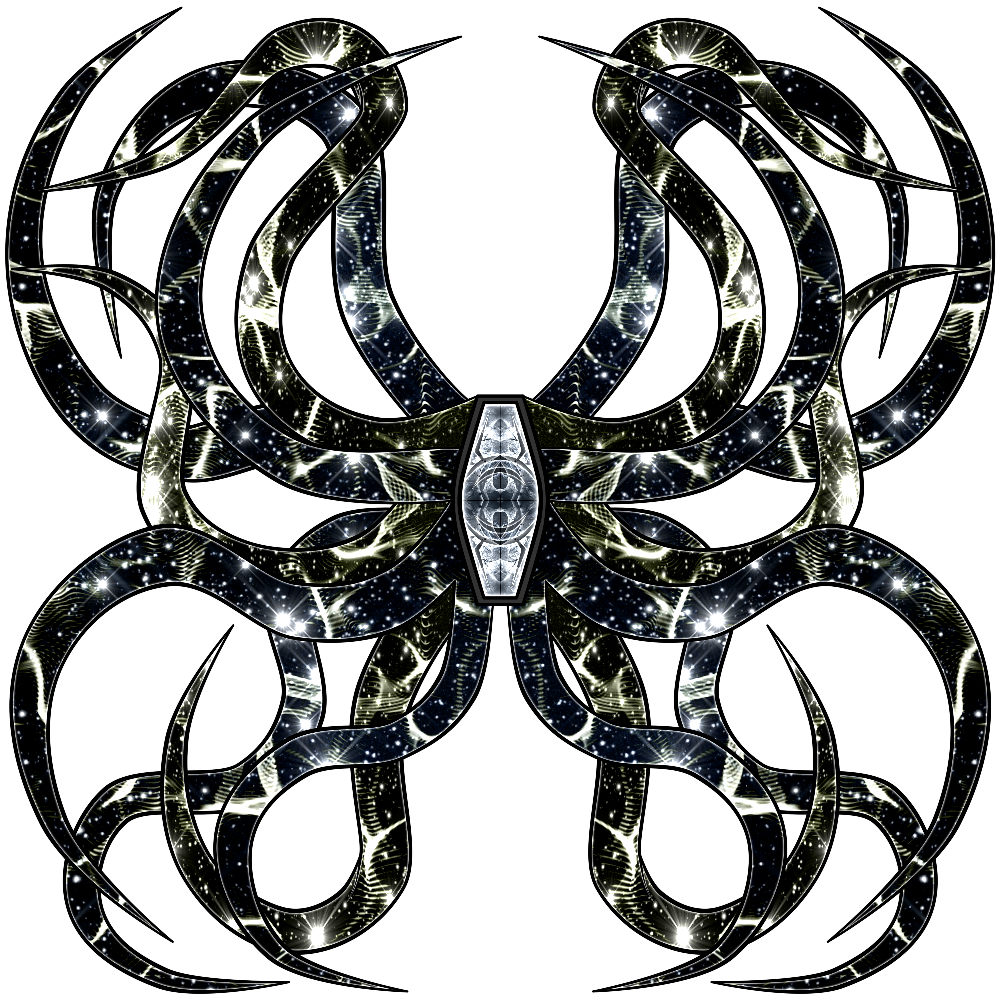 Nilgh'rishuggogg is an Outer Beast created to be a slave by the Elder Gods. However, following the war between the Elder Gods and the Great Old Ones, the savage beast broke free and went on a rampage across the battlefields among the cosmos, devouring the remnants of the fallen ones and absorbing their energy/lifeforce. It quickly grew to be a being with powers so unimaginable and unspeakable, each of its tentacles so vast and near-infinite that could contain galaxies within. The Elder Gods and Great Old Ones had to join force to banish it to the absolute far edge of the universe, where not a single spark of starlight was visible in sight, where not even a speck of light of a massive quasar could be seen.
For billions of millenia to come, the cosmos was safe from the monstrosity whose sheer destruction could rival the awakened Azathoth.
However, during its imprisonment, the monster eventually saw that the place kept it immune to being completely erased from existence, even if the Blind Idiot God ever awoke. Using this to its advantage, the beast sought to wake up the Blind Idiot God and use the calamity to kill off everything else, and when he came into another slumber, it would emerge from its prison to devour him, taking his place as the new absolute dominator of the cosmos.
To this end, it unleashed hordes of its spawns, the horrors known as the Void-Spawns and the Star-Borns, in a mass invasion into the entire universe and dimensions beyond, even the Elder Gods' realm.
Even beauty is deadly. The stars, the nebula clouds, as alluring and sublime as they are, are the perfect curtains to cover the true captivating, beguiling and bewitching nature of this half of the cosmos.
Most would religiously worship them as guidance and zealously revere them as signs for prophecies, but to those branded as heretics and unbelievers, executed on stakes for their blasphemy, these sky-gazing stars are more, much more than that.
When a star reaches the end of its life cycle, and the light ray of a quasar pierces through the nebula clouds engulfed in the supernova, A malevolent, cosmic monstrosity emerges from within, freed from its rock prisons and released into the vast cosmos. A thing of pure, cosmic blinding radiance. A Star-Born from beyond.
While these creatures come in various appearances and sizes, they share some common traits that make them easy to tell apart : constantly shifting formation of thousands of crystal shards surrounding a cracked-open rock, with strange glowing substance leaking out.
While made of crystals and stones, these monsters in disguise hunger for flesh and blood, seeking to consume all living and nonliving things that they can reach to. The main threat is their evolved sentience and intelligence, enough to lure victims into willingly offer themselves with their hypnotizing reflective crystals and songs of desire, but even beneath such subtle approach to gather their hosts and food sources, the disguise is dropped and the monsters in their true nature arise if the victims prove to be too stubborn to fall for the charm, in which case these creatures lash out in an explosive manner. A single drop of such substance leaking from the core of the monster, or a shard of its crystal, when touching the skin, will be absorbed into the victim, mutating them from inside out and outside in as they begin to grow crystals on their body in a painful process. The Star-Born will have for itself a thrall at its disposal.
It is impossible to tell if these nightmarish creatures can be destroyed, but even if they can, their twisted corruption is timeless…
Among the cosmos, the mere presence of black holes have always been a defiance against the nature of all things. They are not "something", for they are neither living creature nor object. They are not "somewhere", for they are not a place in and of itself. They are just "them".
To most people confident with their feeble five senses, limited knowledge and understanding, black holes are nothing more than simply regions of space-time where gravity is so strong that even light is swallowed in.
To those that dare to brave through the madness and chaos, however, black holes are birthplaces of absolute dread and terror, gateways to revelation and destruction.
It is from the black holes that the nightmarish abominations of tentacles and eyes, black as night itself, crawl out of.
It is believed that when a black hole has swallowed enough matter from those unfortunate enough to be in its range, be it a star or planet, a Void-Born monstrosity emerges and reaches to the physical world, a manifestation and embodiment of an endless, restless, relentless gluttonous hunger to devour everything, now given a kind of "sentience" to be active on its wake, and given sight to hunt down and prey upon its victims.
By all rights, these creatures should not exist, ever. At best they are alien, at worst they are hard proofs of how easily even the toughest minds can be torn down. Who knows when they will come crawling out of the darkness and unleash their unspeakable terror ?
While these absolute abominations and monstrosities are too much to even be categorized in any shape or form, in a futile attempt to understand them any better, they share some similarities between one another, such so terrible and terrifying that one glance might be enough to tell them apart : colors so dark no light can reflect from them, with shades of green like corroding acid/poison, or pink/red like flesh itself ; countless tentacles from their mass to ensnare and seal the victims' fate in their grasp ; numerous "eyes" to stare down and break the victims' mind ; and myriad of gaping maws… to make them whole.
They are beings of flesh and blood, hungry for it, and sentient enough to hunt for it. However, they are by no mean "living" creatures in any common sense.
There is no telling if they can even die at all ; one can only hope it is a case, but none would throw away their short lives just to find out if it's actually true.
The horrors would spread out, infect the whole cosmos into thralls of their creator, spread its corruption, and expand its domination everywhere they could reach. Every lifeform devoured and consumed by the monsters, the monster would grow more in power.
Doom has come to our family.
Last edited: