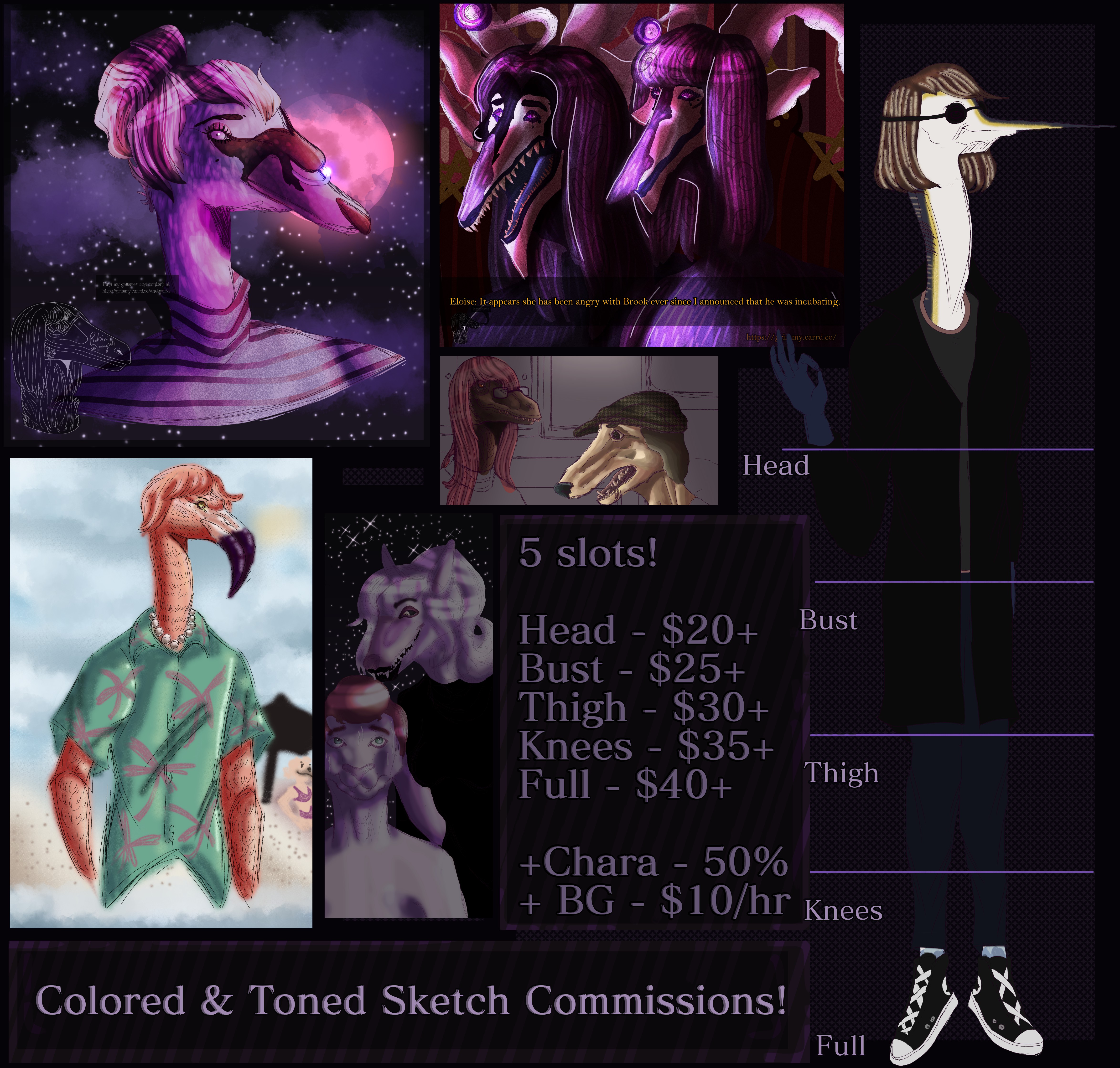 5 SLOTS! Comment or DM me on Discord (Grimm#0894) or Telegram (@/Grimmgall) to claim a slot! I will then link you to a form for you to fill out.



PRICELIST TIERS (Starts at...)
Mugshot: $10+ | Portrait: $15+ | Thigh-up: $20+ | Knees-up: $25+ | Full Soma: $30+
+Additional Character: 50% | Scenery BG: $10/hour

I'm opening these specifically because these are the quickest for me to do while providing a colored & shaded product for you!

​
I can draw anything except for rape, pedohebephilia, incest, necrophilia, tongue or brain mutilation, exaggerated genitalia and muscles, realistic feces, and deformed sea creatures such as deep-sea creatures and similar (phobia).

​

You must pay me at least 30% of the full amount after I send you the first WIP. During the coloring phase, I may ask for 20% more, and when it is completed, you will receive a low-resolution, highly-watermarked thumbnail with a request for the final payment. Upon the final payment, you will receive the full-sized, high-resolution file(s).

​

Average canvas size: 4696px on the large side.

​

Turnaround time: 1-day minimum, 3-months maximum. Average: 3 days. You will receive updates regularly, at least once a week per week you are waiting. If you are growing impatient, you may request a refund anytime (after waiting 72 hours) and I shall refund you according to the stage your drawing is in. If I have decided that I cannot complete your drawing, I will refund you entirely or 95% (depending on how far your drawing has been completed).

​

You may choose between Multiply/Overlay toning (bright colors) or manual color-picking toning (duller colors). Manual color-picking may cause a minor upcharge in your commission (10%), as well as a lengthier waiting period (at least an additional 3 days).

​

If you have any questions, feel free to note me.

​

Monochrome-toned sketches start at $7. Full flat-colored sketches start at $5. Monochrome flat-colored sketches start at $3.

​

5 slots for now. These may open again sometime in the future if these make any sales.

​

You can donate to my Ko-fi if you want. You'll get a little colored doodle or uncolored sketch as a thank you if you so desire.

​