these are my painting commissions, scroll to bottom for lined/shaded fullbodies (they're $15!)
commission process
to order a commission, either send me a note on my furaffinity (
Userpage of rottingichor -- Fur Affinity [dot] net
)or message me on discord specifying the fur style you want and any other details! my current discord is canis#7334, but keep in mind this is for discussion about commissions only.
please have a ref of your character ready! it's okay to supply some text descriptions with a visual, but make sure you have some sort of visual and it's not all text.
i expect payment upfront, through my paypal. commissions shouldn't take more than 2 weeks, and feel free to ask for an update at any time!
terms of service
by commissioning me, you agree to all of the following terms.
1. my artwork is not for commercial use. you may not sell or reproduce the artwork i make for you. the only exception to this rule is if both parties agree on a form of commercial use beforehand.
2. you may not claim to be the one who made the image i produce.
3. you can reupload the artwork i create to your own gallery on any website, but i must be credited in such uploads.
4. using the commissioned artwork as an avatar, in a forum signature, or as a roleplay image on public websites is okay so long as i am credited somewhere visible.
5. i reserve the right to decline any commission without explanation.
6. unless you tell me to keep the commission anonymous or private, i will upload the finished artwork to applicable websites such as furaffinity and deviantart.
commission pricing
all prices are in USD
smooth fur style (smooth fur segments, less textured but still clean as pictured)
fullbody - $50 | halfbody - $40 | bust - $25
examples
detailed fur style (textured fur segments as pictured)
fullbody - $70 | halfbody - $55 | bust - $40
examples
extra characters are +75% of the price.
backgrounds are an extra cost depending on the background you would like. i may not accept all backgrounds, but totally feel free to ask! i am more experienced in nature backgrounds. if you don't want a background, it'll either be very simple textures or flat color.
things i will draw
this is not an exhaustive list, if it isn't on the "things i will not draw" list, feel free to ask!
- feral or anthro characters with fur
- felines, canines, rodents, etc
- birds
- mlp
- wings, horns, hair, clothing, etc
- NSFW, including some fetishes
- gore (normal, candy, fruit, etc)
- nature backgrounds

things i will NOT draw
please don't ask about these, i will not draw them
- anything promoting any sort of hate or crime
- homophobic/transphobic things
- overly muscular characters (maybe in the future, but i need more practice first)
- vore
- scat
- inflation
- hyper
- genital torture/mutilation
- vomit
lined/shaded fullbodies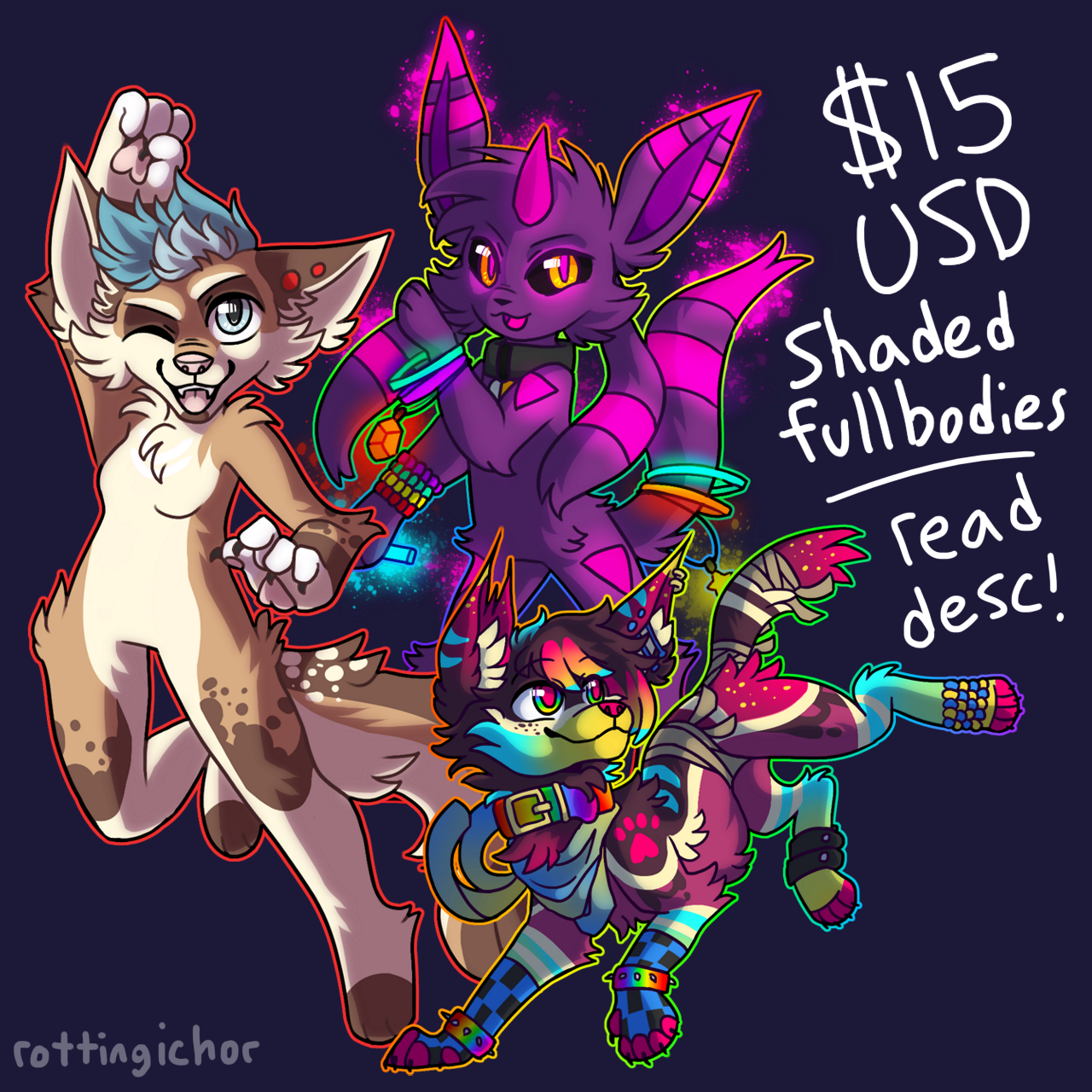 if you're interested in one of these, the same process, TOS, and things i will/will not draw from my painting commissions still apply! very complex designs might cost a tiny bit extra, but usually they are $15. anthro or feral!
thanks for reading <3
​
Last edited: