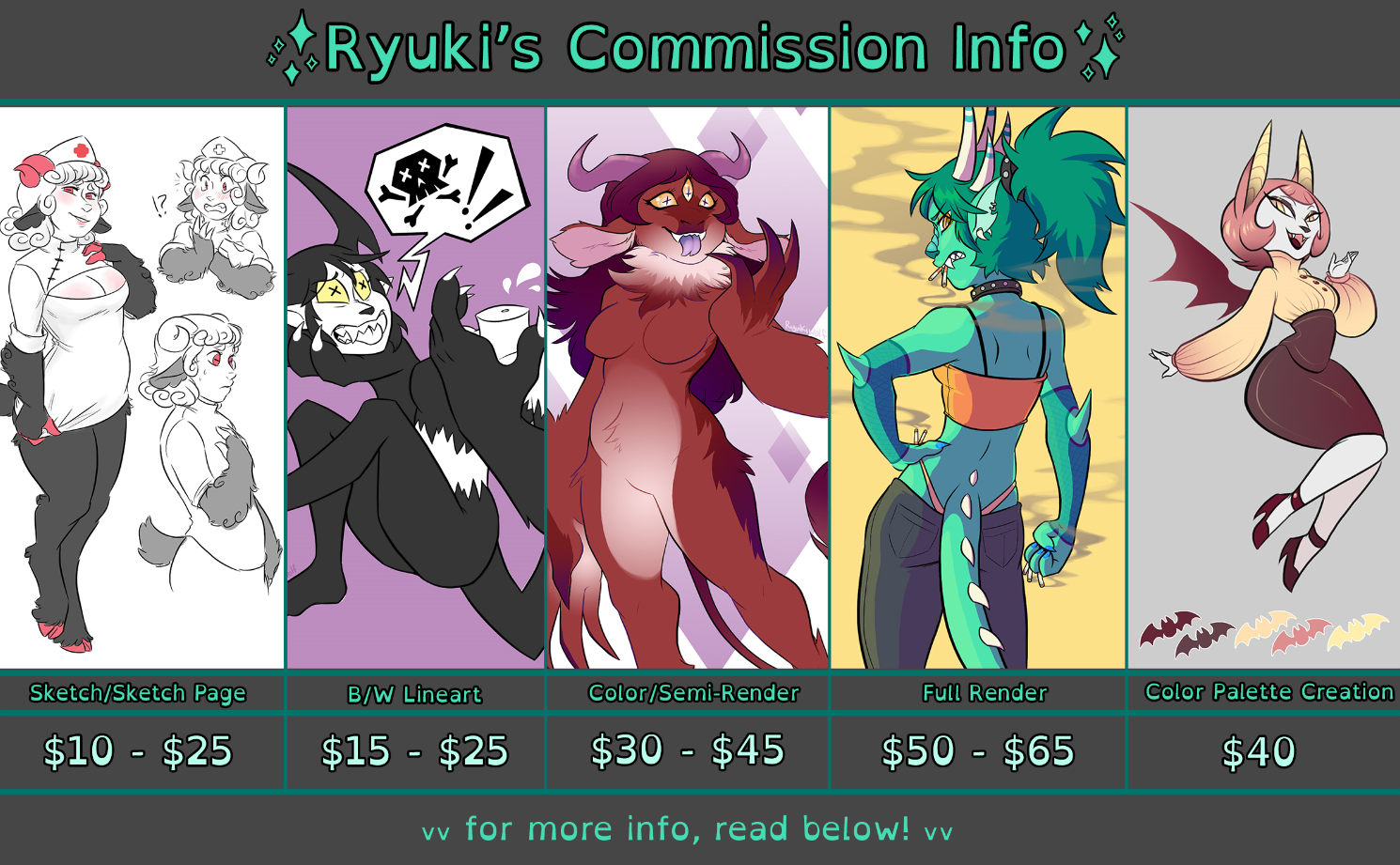 Hello all! You can just call me Ryuki! I'm fairly new to this community, but I'm excited for the chance to work with you! You can go ahead and pm me on FA or here if you have any questions. I'm online fairly often, so I'll do my best to quickly respond! Now on to the services I offer! For my more complete Terms of Service and for extra examples please check them out
here
. You can also check out the rest of my gallery
here!
I WILL draw:
- SFW primarily, but nudity/pin-up's are okay
- Humans, anthro, feral, general fantasy creatures
- Blood and some injuries, mild cartoon violence, but not hard gore (ex: spilled guts, graphic amputated limbs)
I WON'T draw:
- Genitalia of any kind
- hyper muscular/fat characters
- Fan Art (unless say, it's a pokemon gijinka or it's your character doing cosplay or something!)
- Mecha (Simple mechanical parts or prosthetic's are fine though)
- hard NSFW/Fetishes in general (macro/micro, feet/paws, vore, diapers, bad smells etc)
Feel free to ask if you aren't sure what I'm willing to draw!



Sketch/Sketchpage
​
-Monochrome typically with a small splash of one color, minimal to no shading
-I will clean up the lines and color a little bit, but not to the extent of clean lineart
-Single full body Sketch
$10
or Full Page up to 8 sketches of variable size for
$25
-Extra characters are an additional
$5
or
$10
respectively
- You can upgrade to a fully flat colored sketch for an extra
$5
B/W Lineart
​
-A cleaned up half body
$15
or full body
$25
drawing
-black and white, unless you'd prefer the lines to be another color
-can be shaded with a single monochrome color for an extra
$5
. Eyes will always be colored in however, regardless of color, unless specified not to
-an extra character will be another
$10
charge, regardless if it's a full or half body drawing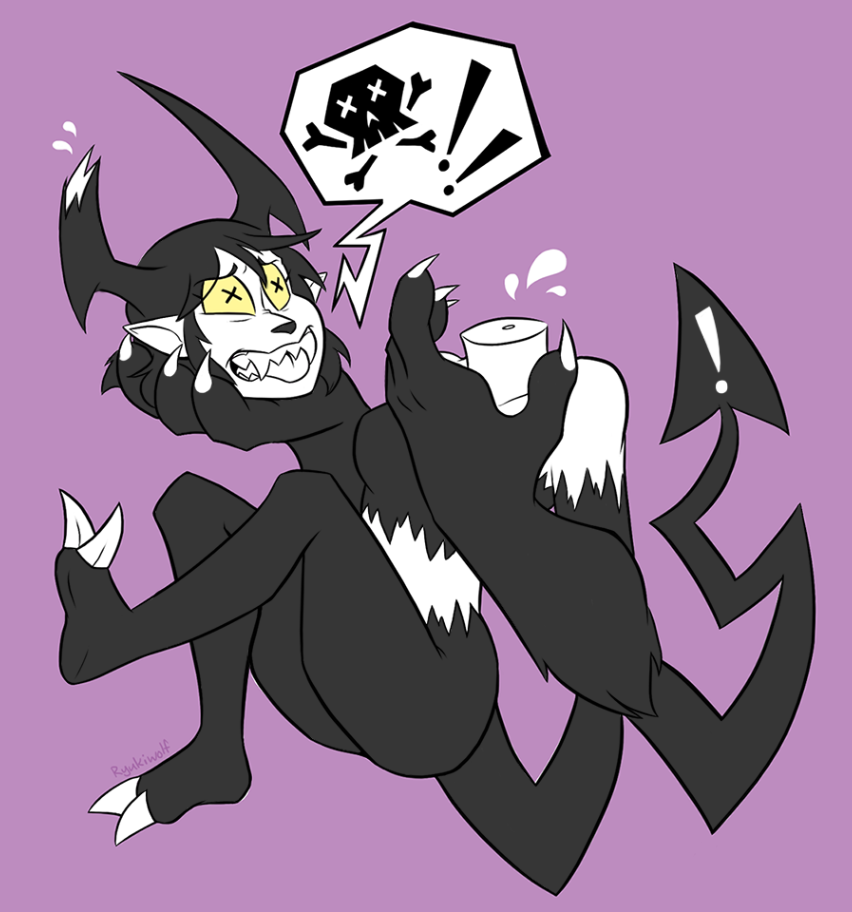 Color/Semi-Render
​
-Clean/colored lines, fully colored, and select soft shading or none at all if you prefer flats
-Half body
$30
or full body
$45
-Extra characters are an additional
$10
-Comes with plain color or gradient color backgrounds
​
Full Render
​
- Clean lineart, colored, cell shading with/or without soft shading as well
- Waist $50 or Full Body $65
- Extra Characters are an additional $25 or $35 respectively
- Complex designs will be extra, per character if there is more than one
- Full or partial solid color or gradient background included, simple designs too if requested
​
​
Color Palette Creation - $40​
A custom design based on a color palette of your choosing! Please be sure to include the following when requesting... Or be surprised with what I come up with!:

-send me a palette of at least 5 colors, no more than 8. If you're having trouble deciding on one, let me know and I'll send you a few to possibly choose from.
-a species of any animal, or your own created species! You can be specific or very general (ex: "Large Dog" or 'Saint Bernard")
-aesthetic type or dress style, if you even want them wearing clothes! If not specified, I may create an outfit for them of my choosing if you so wish
-personality type, so I can pose them better
-body type
​
Image will also include:​
-Clean lineart and clean color, with just a hint of shading
-Your palette
-After I send you your creation, any character bio info, if you would like me to include it in the image I post to my gallery
-Solid color or gradient color backgrounds, full or partial
-Not guaranteed, but any preliminary sketches I made beforehand, I will send to you separately
**If you let me randomize the design, there will be no WIPs! It'll be a fun surprise that way. If you're not satisfied for whatever reason however, note me! We can talk about something extra perhaps~
This will be a character made just for you! You may use them as you see fit!
Thanks for giving me a look! I hope to work with you soon!
​