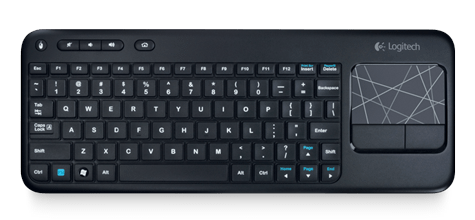 I have an XBMC based Home Theater PC hooked up to my TV and input has always been a tricky issue. In XBMC itself, just an IR remote works fine, but since this machine runs Windows 7 sometimes it needs maintenance and sometimes you just want to run a desktop application on it and then you need a keyboard. With this machine next to a TV and not at a desk or a table, pulling out a classic keyboard and mouse were a bit awkward. If you just want to use keyboard and mouse from your couch or a bed, it's even worse. I picked up the Logitech K400 looking to solve this issue.
What is it? Simply put, it's a laptop keyboard and touchpad without the laptop. Exactly what you need to for a living room or bedroom situation. I previously tried a cheaper device, the VisionTek Candyboard which was much smaller but tricky to type on, had no drivers for configuration and it broke after two months. Being a name brand product from Logitech, the K400 does a lot better than questionable Chinese designed crap like the Candyboard.
So, what do you get? It's more or less a Netbook sized keyboard, but a bit larger and a typical laptop-esq touchpad to the right. The F row is comprised of media keys and you have to use the FN key to actually get the F keys to act as F keys instead of media keys. Clearly this keyboard was designed for multimedia applications first. The touchpad is responsive and the combination of FN+Left Click toggles touch pad 'tapping', with tapping being something I dislike, it's nice to be able to disable it without even needing the drivers. This also means that tapping can be toggled on any hardware regardless of driver support. Like a Netbook keyboard, they key layout needs a little adjustment too, due to things like the right shift key being fairly tiny or the Home/End/PgUp/PgDn keys being combined with the arrow keys and needing the FN key to operate them. It's a pretty ideal solution for Media PCs, laptops connected to a television, or even just for PCs where you want an all-in-one wireless keyboard that can be kept out of the way except when needed.
In addition to a traditional touch pad, there's a secondary Left-Click button on the left side of the keyboard. This puzzled me at first but then I realized that it allowed me to hold the keyboard on both hands, like a gamepad, thumbing and right-clicking with the touchpad in my right hand and left-clicking with my left hand. This negates the need to put the keyboard on any kind of surface if you're just using the touchpad to navigate an interface.
Downsides? Lefties could have a problem with it. It's small and some people may dislike a compact layout. While allowing it to be light and small, it's entirely plastic construction isn't likely to be the most durable. Finally, it's use in the BIOS seems limited depending on the machine. I can't explain this but others have reported issues with this keyboard as well, some machines can't use it as a generic USB keyboard before booting to the OS while others can. On my AMD Llano HTPC, the K400 is useless until the operating system starts but a Microsoft Ergonomic 4000 USB keyboard seems to work just fine. Yet on my Sandy Bridge laptop the K400 has no issue accessing and navigating the BIOS. I can't explain this issue as any USB keyboard should work out of the box in these situations.
At $39.99 I'd say this would be a great laptop who has the specific need for a 'Laptop keyboard without the laptop' like I do.