I've got my commissions open if anyone's interested here is my price sheet. If anyone is interested note me there
Prices are in New Zealand dollars.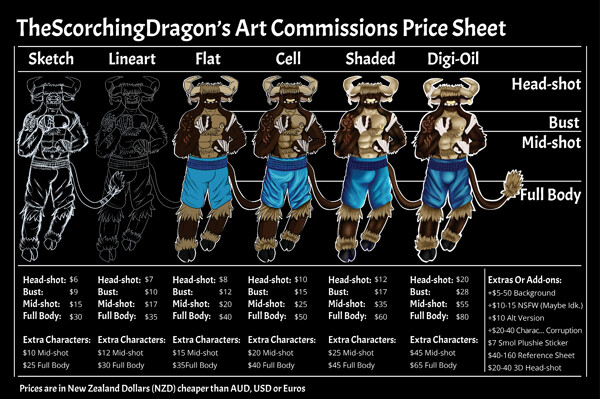 . . Commissions are OPEN! ~ I also do YCH every month!. https://www.furaffinity.net/view/34822939/ - price sheet. ~Note me if your inter ...
www.furaffinity.net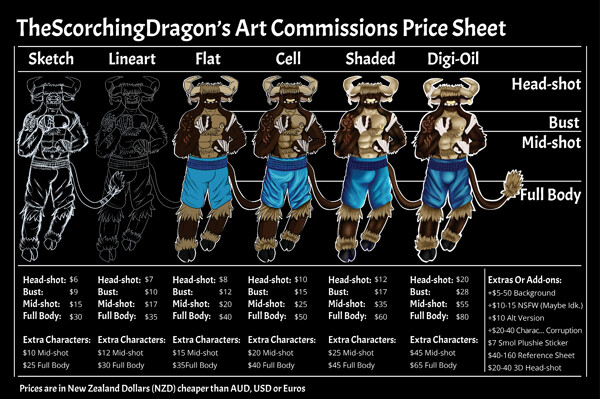 NSFW OPTION:. Prepare to have an image reference of the position you would like your characters to be in.. If one character +10$. If two ...
www.furaffinity.net
I also have an added option for cell gradient that looks like this
Cell gradient prices:
head: $9 - bust: $12.50 - mid-shot: $30 - full body: $55
3D head-shot's are closed
August Discounts:
Coms ≥ $25NZD are $5NZD off
Coms ≥ $50NZD are $10NZD off
Coms ≥ $100NZD are $30NZD off
NSFW +$5NZD 1-2 characters ($5-10NZD off regular rate)
When sending a note to commission me I need to know:
-Your character(s) species, reference & how many characters.
-What style you'd like and if you'd like any extras or add-ons
-If you want clothing on your character(s), provide a reference image for that
-If you'd like updates via FA, Discord or Telegram
I know some people prefer to describe in text how they would like their poses drawn but it would really help me a lot if you were to provide an image reference of the pose you want your character drawn in because that's how i work.
If your unsure I can draw your characters species you can always ask.
If you are unsure about how much NZD is in your currency, do a google search or try paypal's currency calculator.
Any other details can be discussed in notes/dm's
I only draw anthro characters, if you have a feral character like a feral dragon I can draw them in anthro form for you.
I don't draw humans.
I draw male characters.
Payment method required is PayPal.
If i'm currently working on someone else's commission i'll talk to you about what you'd like and then you'll be on the next available slot in the list