All of my tattoos are "nature" themed. I have yet to get an outright furry tattoo. Chinese on my leg that says "lovesong wolf" was my first tattoo. I got a butterfly with a tiger's face inside of it on my other leg. Last year I got a round tattoo I designed on my back of a wolf coming out of the moon, and a tiger coming out of the sun and it's a big circular design. I have a shamrock on my foot (not really furry, but I'm on a roll here). I tattooed paw prints on my thighs during my tattooing apprenticeship. I'm due for this: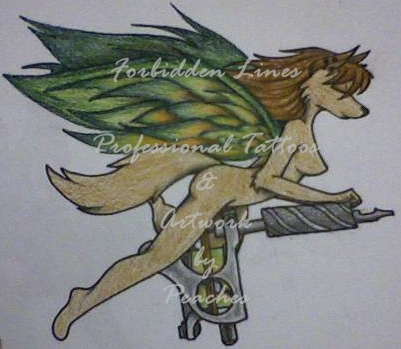 My mentor will hopefully have time to get me in this month.
I've got another in mind, and I just might tattoo it on myself. It's a memorial to a furry friend who passed away. I already tattooed a memorial for him on my husband. Because it means so much, I just want the design to be perfect.
It's so interesting to see other people's tattoos. MOAR!!!